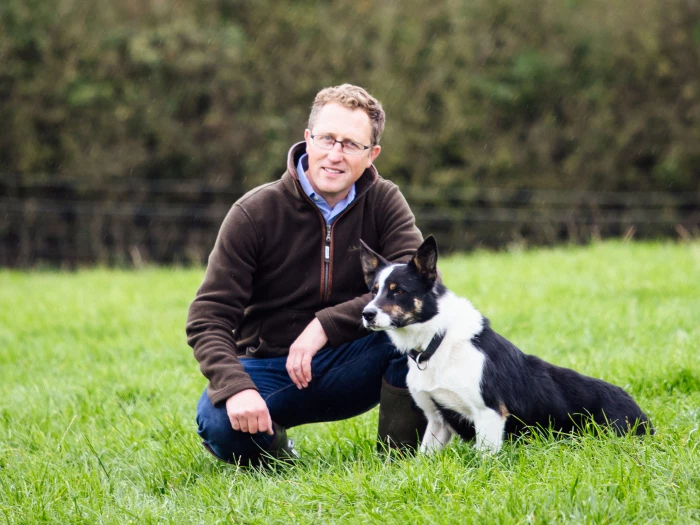 We know that your CV is just a snapshot of who you are, which is why we do our best to get to know you and find out what makes you tick. We want to find out your story behind your CV.
Careers that begin by chance can develop and present opportunities that you would never expect. Looking at the story behind Hugh Pocock's CV, you will find out how Hugh's career has developed over the past 20 years and how Cultura Connect began.
Hugh's Background
Although Hugh has a farming background, it was his Grandparents who farmed, his parents made a living outside of the agricultural sphere. Hugh's varied farming experiences during his childhood led him to Harper Adams to study Agriculture, following this his work experience as shepherd for Robert Gregory, and his year out from Harper at Richard Ratcliffe's dairy farm in Cheshire led to a cattle showing phase, Hugh developed skills as a cattle fitter (clipping cows for the show ring and photographing) which then led him to doing some self-employed work for Cogent Breeding to prepare cattle for a showcase event. None of this was planned, it was taking the opportunities when they presented themselves.
What came after Harper Adams?
Hugh started working at Cogent in 2001 as a Progeny Evaluator. The world of cattle breeding was in a stage of serious technological advancement with the launch of sexed semen and Cogent was at the forefront. Hugh travelled the UK visiting dairy farms, selecting progeny to promote the bulls in Cogent's bull stud for two years before being promoted to Sire Analyst and then Head of Genetics two years later. Travelling a little further afield to the US, Canada, Australia, and multiple countries in Europe, Hugh expanded his professional network further by travelling in these countries with selected business partners choosing genetics to bring into the Cogent portfolio. The challenge was choosing genetics for the future UK dairy herd, considering where the demand would be by the time the bulls had been through the testing stage and to the age where they would have proven daughters on the ground, delivering results to the UK dairy farmer. This is where Hugh's keen awareness of the importance of each element of the supply chain began.
After two years Hugh was promoted again to UK Sales Manager where he gained valuable experience of managing a large team of people. This was a fast-paced role where Hugh learnt a lot about the commercial elements of business.
Changing roles within the company every few years meant that Cogent provided a broad depth of knowledge that included sales & marketing, people management. As the business continued to grow Hugh moved into International Business development where he gained experience in business acquisition and board experience.
Outside the day job
Whilst still at Cogent, Hugh & his wife Kate invested in a property that incorporated a village butchers' shop. Development of this property included a complete renovation and establishment of a new modern butcher's shop to meet the needs of a vibrant Cheshire village. Already 'dabbling' with rearing home-grown lamb on a tenanted smallholding, this new route to market gave Hugh even more of an incentive to grow the small farming enterprise. This venture into retail gave a real insight into consumer demand and how much consumers want to know about the produce they buy. The importance of the story behind the product and how many more opportunities there are to inform consumer purchasing decisions.
Taking voluntary redundancy from Cogent in 2017, Hugh, Kate & family took the decision to move to a bigger tenanted farm to satisfy Hugh's farming ambitions. At the same time, after connecting with various people in his vast network, Hugh took on several consultancy positions. Working with a leading integrated beef supply chain, a livestock identification business and several Ag Tech projects, the symbiotic relationship between the stakeholders in the livestock supply chain became even more apparent. Consumer demand informs what supermarkets want, whether consumers are looking for more taste, traceability, assurance of health & welfare throughout the production process, these demands can only be met by going all the way back to the livestock genetics where his career started.
Hugh had taken an interest in Wagyu cattle from the early breed development days whilst at Cogent and was asked to be on the board of the Wagyu Cattle Breeders Association by the late Mike Tucker who founded Cotswold Wagyu and was instrumental in getting the breed in the UK to where it is today. Hugh now rears a small number of Wagyu Cattle for Warrendale Wagyu and continues to sit on this board as a non-executive.
The beginning of Cultura Connect
Throughout Hugh's career, he has always encouraged and promoted the agricultural industry as a great sector to work in. Hugh was often contacted to ask if he knew of anyone for certain roles, it became obvious that there was a gap in the market for someone with commercial and practical experience in the sector to find new talent and to place them in the right business. This is where the idea for Cultura Connect came from. It was a chance meeting with Tom Marsh, watching their sons play tennis, that started the partnership that now makes up the Cultura Connect management team.
That is the story behind Hugh's CV.
Hugh adds,
"If this was in a CV format it would be impossible to find out about the experiences behind my professional roles in the agribusiness sector. I am still learning something new every day which is what I love about this business!"
Cultura Connect work across the entire agribusiness sector, we aim to work with integrity and diligence. Agriculture is an expansive sector to work in, but it is also very connected, which means that quick wins would do us no favours at all, we want longevity and quality placements that will help businesses move forward and succeed.
If you would like to tell us about the story behind your CV, we would love to hear it! Contact one of the team via our website or call 01948 818448.
Cultura Connect – Connecting people in agribusiness.