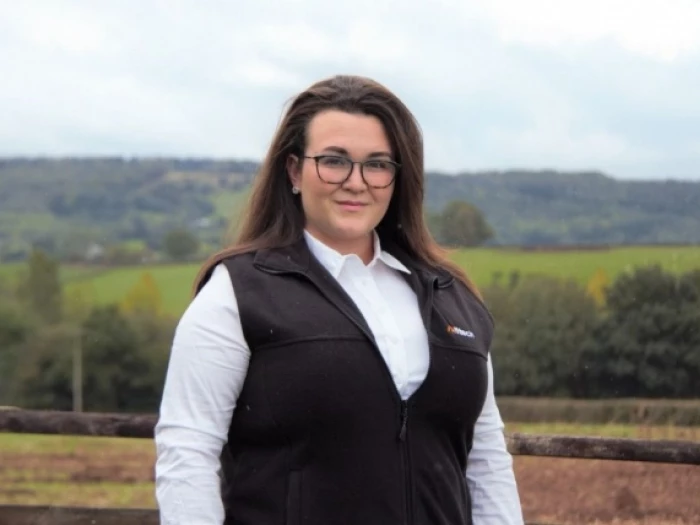 Career Focus: How did you get here?
Imogen Ward – Ruminant Nutritionist
What is your job?
Ruminant Nutritionist at InTouch – a division of Alltech
How did you get into this area of work?
I have farming in my blood – my Grandparents worked with cattle, I was bought up on a farm but we have never owned our own farm. My Mum & her partner have worked with some great herds and I was lucky enough to learn a lot about farm management and working with livestock.
What are the 3 attributes that you have that enabled you to be successful in your job?
Being able to talk to farmers. This is so important; you need to be able to put yourself in their shoes.
Being confident & knowledgeable about farming practices
Ability to study data and monitor performance
What did you want to be when you were younger?
I wanted to be a farm vet for a long time but as my journey through education progressed, it became apparent that this might be a stretch. My current job is the next best thing – I am passionate about animal health & this job enables me to get really involved in cow performance and wellbeing.
What work/life experience best prepared you to do your job?
My upbringing – I am used to working with livestock & have hundreds of hours of on farm experience. There is no substitute for getting your hands dirty on farm. I would recommend that people from non- farming backgrounds who want to get into this kind of role, to get as much experience on farm as possible!
If you could give one piece of advice to your 18 year old self, what would it be?
Take the pressure off yourself and pursue your passion, the rest will fall into place! I have had some fantastic jobs along the way & it has helped me to work out what I like and what I don't like in a job!
Also NEVER say no to an opportunity!
What is your least favourite part of your job?
Travelling! I love being on farm and working with different herds but if you don't have the balance right it can get tough being away from home. I think I have it about right now, I work from the office for 2 days a week & I am out on farm for 3 days.
What has been your biggest career challenge and how did you overcome it?
Being in a job I didn't enjoy. This was tough & it's about making sure that you are aware if your job is making you unhappy & focusing on yourself. I kept my eye on what jobs were around at the time & I highly recommend talking to someone who has a good overall view of the industry. Hugh from Cultura Recruitment was my first point of contact & he helped me to work out exactly where I wanted to be & found me my perfect job!
What is your next career goal?
I would like to become a specialist in ruminant nutrition, get more 1-2-1 training on cow signals and the science behind my job. I really love the job I am in, so to gain more in depth knowledge about my subject would be incredible.
Is there anyone who has stood out as being a mentor / inspiration / or someone who has had a significant impact on your career so far?
I have two people who come to mind:
Heather Niman – a good friend and a farm vet. Heather is doing the job I always wanted & I am so proud of her. She made me realise that being a vet perhaps wasn't the perfect job for me & suggested that nutrition would be a field that would fit my skills really well.
Anthea Daw – my mum & the person who is always there as a sounding board in my career. Mum has always given her all in every job she has had & she is still absolutely smashing her targets in the business she is working in.
What is the biggest challenge you have faced during 2020 (can be work, life or Covid-19 related)
The impact of Covid-19 on my work without a doubt! The challenge has been working from home whilst trying to make an impact on farm. To start with getting farmers to hold meetings on Zoom or Microsoft Teams was a massive challenge. I have had to encourage my clients to observe their cows more and let me know what they are seeing, what they think! I have clients (who are of the older generation) who are really embracing this new way of working & one who is signed up to a cow signals course , he sends me videos most days & in a way it has really improved communication between myself and my clients. In the future I think monthly visits to farm will be stretched to every 6 weeks with a monthly zoom catch up, this will be more efficient use of time all round!